Smile Makeover
Any tired and stained smile can be transformed into a DAZZLING natural smile
Porcelain Crowns
Beautiful All Porcelain Crowns are very strong and on average last longer than thin veneers and lumineers. Last thing you want is to be at an important dinner meeting or party and bite onto an unexpected bone and have your pretty veneer shear off.
Has it happened to you already?
Tooth Whitening
A simple thing like tooth whitening can sometimes dazzle up your smile enough to where you don't feel you need to get more Cosmetic treatment.
Come in TODAY.
Performing Dazzling Cosmetic Dentistry Feats
Simplicity is the key to a Natural Smile. Sometimes a simple thing like a home whitening kit and changing out old amalgam fillings and old all metal crowns can bring out the best in your smile.
Sometimes being less invasive is the best remedy for your tired smile "BLUES"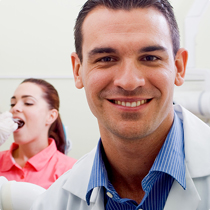 A Combination of art and
Science to Optimally Improve
Dental Health
Modern Technology and Dental Materials have made it much easier for us to come close to matching Mother Nature.
A little work on our part and a good oral hygiene routine at home can keep your smile in "Tip-Top" shape.
Before and After's




all archives